Beautiful day for a Track & Field Meet. Mainly Track today, though. Clear sky, summer sun, reminds me of one of the more muggy, humid days in TO.
Must congratulate the guys for amassing a bunch of medals for House Pegasus. Sarab, Iqbal, Firdaus, Fadzli. You guys showed great spirit and enthusiasm running your events and taking turns to whack the
kompangs
for us along with 'sif and Ramzi. Unfortunately, a few heroes aren't able to carry a whole team. We need a lot more pegasii (is that the right plural?) like you if our House is going to do better next year. I am, of course, disappointed that Team Pegasus has gone to the bottom of the House standings after today, but that still doesn't take away your achievements. Congrats, boys!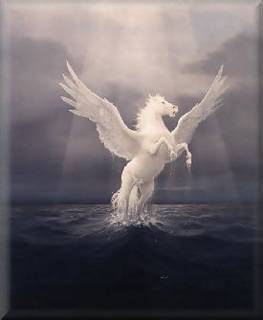 House Pegasus. We'll be back!

Duds, if you're reading this, my congratulations to you and House Phoenix, and to your House Masters, Vince and Lena. Vince may have lost the Bowling battle to us, but his prize today more than makes up for it. Can't help comparing your success with Hogwart's House Griffindor and thinking, red is a fitting colour to launch the our new Houses in the College. Your cheerleader who hurt her leg deserves mention as well for her courage and determination to continue with the routine. Hope she'll be ok.
It's a rare sight, but the Milo truck made an appearance at the track today and kept us supplied with the chilly, chocolatey beverage. It's no substitute for breakfast but it comes a close second. As Richard pointed out at brunch, the Milo served from the truck tastes way better than if we were to concoct it ourselves. Strangely enough, it's also better than the Milo in tetra-packs and sold in shops and vending machines. Shouldn't Milo all taste the same since they all come from the same manufacturing plant? Perhaps it's just the mystique of the old Milo truck that serves up unlimited quantities of cold Milo on hot, sweaty days when everyone is thirsty from exhaustion and exposure that adds to the taste. In the farthest reaches of my memory of the truck, MacRichie Reservoir Annual X-Country 1978 till today, the truck's been working it's magic. And the magic must be in it's generousity, freely providing what is needed to those who need it. A lesson in life maybe?