Q-tip explores ECP at last!

Ready in the cockpit, waiting to blast off!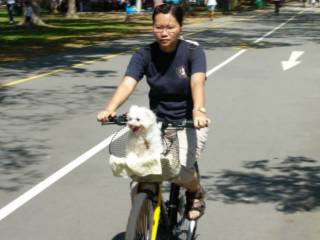 And we're off!

Deep sea exploration

One seriously wet dog who needs a bath!

Had a great day today with beach, bike and bimbo dog. It was Q-tip's first time out at ECP and her first bicycle ride too. There must be some discrimination going on at the bike rentals because when the rental clerks cottoned on that we wanted a basket to carry our dog in, they wouldn't let us have any bikes. Is it a safety thing or what? So we had to do it the underhand method. June parked herself some distance from the next bike rental outlet then I went to get a bike with basket for myself. Having scored a bike, I went back to get a second bike, somewhat smaller, for June. Only then could we load up Q-tip and show her the sights. How bothersome.
June ended up with the basket as it was so low-slung on my bike it dragged on the front tire. We thought Q-tip would freak out in the basket but from the outset it looked like she was really enjoying the ride. She was smiling all the way, tongue hanging out, very relaxed on the towel we provided for her comfort.
She didn't like swimming, however, not like when we were at Sentosa a few months ago. The waves were higher and stronger at ECP and she just couldn't cope. Swimming was over in less than 5 minutes before we headed back to return our bikes.
We got the scare of the day when on the way back, Q-tip temporarily misplaced her brain and jumped out of the basket from the moving bike. Both June and I narrowly missed running her over as she landed badly -- belly up instead of on her feet. She must have suffered some shock as well, immediately righting herself and running aimlessly across the grass verge with me in hot pursuit. It took a while before she recognised my voice again and slowed to a halt in sitting position. Whatever was she thinking? Q-tip doesn't have the guts to jump off the sofa; what could have posessed her to jump off a bike? A mystery to solve before we take her on another biking expedition.
We rode very slowly back to return our bikes (again one at a time) this time holdng very tightly to Q-tip's leash in case she decides to take another unauthorized skydive again. No incident, this time.
Home again and Q-tip's got her bath and is nice and fluffy again. In need of grooming, she is.
Went for dinner at The French Stall, on Sembawang Road opp. Khatib Camp. Nice French bistro. The layout is half indoor dining and the other half
al fresco
. June and I both ordered the same beef set but replaced the Aubergine dish with French onion soup. The soup didn't disappoint in taste but presentation-wise I'm still looking for a French onion soup that comes with a layer of mozzarella
completely
covering the top of the soup bowl, the way I'm used to in TO. Also, maybe it's because most people don't like it, but the soup came devoid of parmesan. I had to ask for it and it came freshly grated in a saucer; that's service! French onion soup needs a generous sprinkling of parmesan to fully bring out it's flavour. Try it, you won't regret it (unless you already can't stand parmesan, that is).
I ordered the Beef Entrecote to remind myself of the one thing I was specially looking for when I visited Quebec City those many years ago. I had heard that this dish was a specialty of a particular eatery in the old part of QC (by old we mean that that part of the city hasn't been updated for 200 years and is now a major tourist attraction). Mom and I managed to find that particular restaurant and the beef, as I remember, was really special. At The French Stall, the entrecote was juicy, tender and came in a tasty creme sauce on a bed of potato gratin. It's nice that when we asked for our steaks to be done rare, they were actually served rare. Some places, you ask for rare they give you medium because they can't stand the sight of blood or something.
The choc cake for dessert was nothing to rave about. It just... was. Next time, I'll try the lamb and maybe follow up with the ice-cream thing we saw carried past our table. Altogether, the meal cost us a few cents short of $50. Ouch. What the heck! It's payday!