What a great Teacher's Day! Judging by the publishing time of this entry, you can tell I didn't have the chance to blog yesterday. So many other things keeping me occupied.
The 'workout' crew debuted our hip-hop number -- the one we've been working on since June. People said nice things about the item, and from my own perspective, it felt good, performance-wise, mistakes notwithstanding. Well, cheers to crew members; Staff: Cara, Jong Yann, Lynnette, me; Students: Hasif, Ramzi, Jane, Jasmine; guest breakdancers: Daniel, Leon; Choreographer, Chief make-up, Solo and Boss: Shyadina. Thanks, everyone, for your patience, committment and belief in us, and for imparting just a little bit of your talent to us, keeping us one step further from premature aging.
Photo time!
The crew showin' a little 'tude

Celebrating a great experience

For more pix of our backstage and post performance antics click
here
. 3A2, hope you don't mind me using our Webshots account to host these pix that aren't exclusively ours. And thanks for the boxers! Could be the start of new wardrobe trend for me. Love the colour too!
Lunched at Country Manna (Gardens) with Thad, Anthony, Cara, Mel, Amy and Shahida. Someone couldn't resist the cheap Tiger. Too bad yesterday was the last day of the promotion period though.
Had to get costumes ready for staff dinner. The theme was "Movie Night" and our table had the idea of going as Hogwarts School. NYeDC, honestly, we both came up with the same idea, though independently of each other. Because of your item in the concert, it took some soul searching before we agreed to proceed with our plan even though it might have been misconstrued that we ripped your idea off for ourselves.
Dinner was standard 8-course Chinese at the Royal Plaza Hotel, same location for the last 3 staff dinners. Same routine of presenting long-service awards to staff of the 3 schools, same compulsory speech by a rep of our SMC. But our table (No.9) rocked! We made off with the prize (memo pad holder) for the movie title identification puzzle with the only perfect score. We won 3rd best dressed table (a handy clothes peg basket), and 3 of our table members; Yee, Cara and me along with Agnes and How Wie won the movie trivia quiz (a cool water bottle). So in terms of dinner games, NYJC, in particular, table No.9, came out tops. We're definitely sitting together again next year!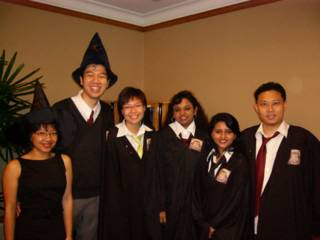 Making magic at the Teacher's Day staff dinner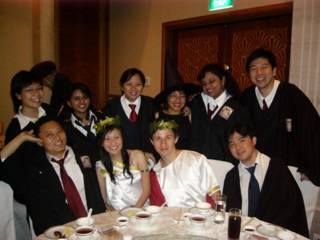 The Hogwart's table with 2 guest Olympians

More
photos
!
Phew! Almost done. Went for after-dinner drinks with Vince, Anne, Cara, Amy, (a very tired) Anthony, and were properly introduced to new PE staff, Victor and Chew Ring. Weng popped by to wish us a happy Teachers' Day too. Long day, but a lot of fun. Thank you, everyone.