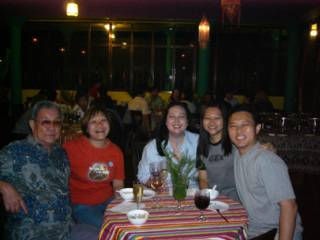 Happy bdae to Jen (centre)! Jen's flanked by us on the right and her dad and someone we don't know on the left.

Celebrated Jen's birthday at Poison Ivy, the little restaurant outlet of Bollywood Veggies, an organic vegetable farm on Neo Tiew Road (where's that?). The restaurant is named after (who else?) Ivy, who together with her hubby own the farm. Ivy herself is quite famous personality in women's sport in Singapore.
As the farm produces organic vegetables, our dinner almost literally came from the back garden. The chili padi, bananas, brinjal (eggplant), ladies' fingers, to name a few greens were of course fresh, but my plebian palate couldn't distinguish between organic and inorganic(?) vegetables. Regardless, the buffet-style dishes were delicious especially the banana curry (bananas+grated coconut+cinnamon sticks), the eggplant curry and the tender lamb. Yes, LAMB, and no, it wasn't a vegetarian dinner. June pigged out on the wadai.
I don't usually like local desserts but the consistency and flavour of the tapioca cake, the
kueh ko swee
, and the banana cake impressed me. The
kueh ko swee
particularly, since grandma died and took her recipe with her.
If eating vegetables constitutes a healthy diet, then this place can be considered pretty healthy. That, the red wine and the quiet, rustic, away-from-it-all ambience, and air-conditioned comfort make this place a great afternoon hangout. Indeed, it's only open for lunch and tea from Thursday to Sunday only. Dinner tonight was possible due to special arrangement -- Jen booked the entire restaurant for her guests!
One problem is that the restaurant is so out of the way, it took 2 calls to 2 cab operators before we could book a taxi to take us home. If we are ever going up there again, we'll have to go with someone who's driving.