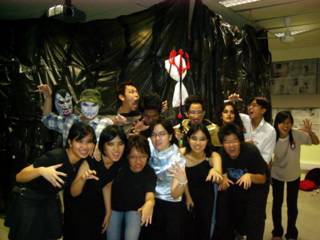 NYeDC ham it up at Halloween 2004!

Another Halloween event has been laid to rest. Amen. Hope all who participated had fun! I could see the organizers were workin' their butts off, and I for one truly appreciate the effort. For Ben to coordinate logistics and scheduling for this event within such a short time, I'd have to say he's proven himself most capable of being our Stage Manager for Drama Night '05. JT was almost tireless tonight, "putting out fires" all over the event venues and ensuring that things went according to plan, dealing decisively with unforseen circumstances in a responsible manner. Faz 'n Jaz stayed on top of things, managing the Haunted House, and as this station soon became increasingly popular, handled crowd control as well. Everyone who lined up for a tour got a tour even though it set back our schedule a little.
... too tired now to think of anything further. Will complete entry after some sleeep...
Edit 01:
It's difficult to assess how successful Halloween 04 was.
There could certainly be improvements made to the operations of the attractions, especially in marketing them, in crowd control and in ticket accountability; and other improvements to our allocation of human resources. We could have used an overall business plan that looked into enhancing the cohesion and profitability of the entire event. The groups involved needed to work more seamlessly with each other for a more unified 'feel' amongst the various attractions, and no group would feel 'secondary' to the proceedings.
On the other hand, different individuals showed their capability in throwing this hastily executed event together. They showed committment in working hard together on a common purpose and creativity in improvising solutions to problems as they came along. The event threw up a talented band, still rough and green in presentation, but entertaining nonetheless. We might still need to work on being more crowd-pleasing, but the basic foundations for a show for Drama Night 05 are here and they have passed their test. Now, if only we could get a script out in time...
Thanks everyone, for your work and your support for the event. To Rugby, Soccer, Biz Club, ICS, Dance, 04A1A, AV crew, Photogs and First Aiders (who thankfully remained unemployed all night). And NYP's dancers too.