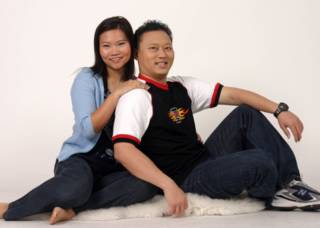 Pix courtesy of Naughty By Nature

June "won" a $550 voucher for a makeover/glamour photoshoot from image consultants, Naughty by Nature. The voucher included makeover for spouse as well so since we didn't get our wedding shoot done we took the opportunuty to do a glamour shoot instead.
Quite obviously, most of the cosmetic retouching went to the wife whereas I had to content myself with a layer of foundation and a dash of lip gloss. It isn't usually a good idea to outshine the wife in a glam shoot, is it? It was her prize anyway.
We were in a quandry over what clothes to wear since we don't have anything "nice." So we went informally, hence the above.
Warm, friendly, chatty staff. Makeover and shoot were free, but to get the results in a professionally done package it cost quite a bit. $1,288 for a graphically enhanced (eyebags, blemishes removed, etc.) leather-bound damage-resistant album, 2 poster sized shots of our choice, 1 desktop shot of our choice, a CD-ROM containing all our shots (nice or not) and including a major discount if immediately paid for in full.
When it came time to pay, I discovered that my credit card had lost one corner and it was split all the way along the magnetic strip. Nestled in my wallet, it had unsuccessfully tried to take the shape of my butt and pathetically perished in the attempt. I had to max out my NETS and June came to the rescue with her credit card to pay off the balance. Must remember to reimburse her quickly as there is yet another major expense coming up soon. June's lasik treatment this coming weekend.
This year's AWS is going to be most welcome.