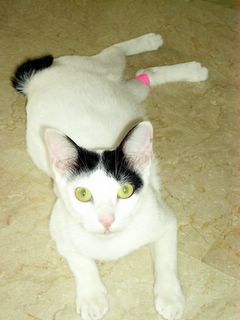 Flirt
2004-2005

Very sad day. Flirt had been missing for a few days and Cat Auntie,
Lau Ban Niang
and June have been worried about her disappearance. This was after we had returned her to her family in the Square after her spaying. Spaying, for some reason, makes cats who have given birth before not want to live where they raised their young. As her mother before her, Flirt moved out of the Square but, unlike her mother, she moved across the street and made the drain her home. The drain isn't the best home for a cat.

Today, we went back to the drain where we had last seen her a few days ago, and there she was under the grille though it was just her body. Her spirit had moved on. June was in tears and I was numbed. The cause of her untimely demise is unknown, though I suspect she must have been caught in the drain sometime during the last couple of days that we'd been experiencing torrential rains.

Though she was a stray, she was a part of our extended "family." Good bye, Flirt. We miss you.