Edit 01:
Forgot to mention the place I went to for lunch with Weng and Anthony. It's called Friends, just recently opened on Maju Ave right next door to the Cartel.
Friends is both a wine bar and a cafe. The first view of the interior is that of a wine cellar with racks of wine greeting the patron at the entrance. The dining area is not far behind. Tables and chairs are oddly low, though luxuriously comfortable. The chairs are the kind you might just fall asleep in after a good meal, if you didn't have anything pressing in the afternoon. Weng speculates that the low furniture gives the illusion that the ceiling is higher than it actually is, which makes the room seem more open and airier. Clever, efficient use of available space, that.
The lunch set is quite reasonable. $9.90++ for a soup OR salad, a variety of main courses to choose from, dessert and hot beverage (the coffee is pretty strong, Grinders, an Aussie brand). I had the beef lasagne. It went down smoothly, the flavours of mozza and ground beef blending nicely together. Substantial, yet not too heavy as lasagne tends to be. The passionfruit cake was tangy and fresh. Yum.
But the one thing I am most impressed with is the fact that my water glass that came at the beginning of the meal still contained a significant iceberg after I had drained it at the end of the meal. The water was cold and remained so throughout. That, to me, is a clear invitation to visit again. Def.
---------------------------------------------------------
Maybe I spoke too soon about the "oppressive doctrine" I mentioned in my previous post... [mumble, mumble]...
Anyway, the
college blogsite
is up and running with some posts already up by our student contributors. The site link is also on my sidebar for easy reference. It's called "Oil Lamps" after that stale joke about our college not needing anyone to change our light bulbs 'cos we are still using said item. We need visitors to our site to win, and your comments and suggestions as to how we can make it better, more attractive and, most importantly, more meaningful to you will help us a great deal, so please feel free.
This entry is also to mark my nephew, EJ's, birthday. He's still Thomas-mad (see my previous post of a year ago) and all his pressies were all themed accordingly. Thomas Lego Duplo from Japan, Thomas 'Lady' figurine with railway tracks, Thomas underwear, Thomas stamp with ink-pad, Thomas railway playset. Once again, M-i-L baked a mango cake and arranged another Thomas railway station diorama on top. Observe below: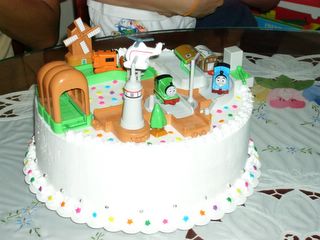 Mom-in-Law puts a lot of effort into her homemade cakes.

I wonder if this Thomas obsession is bad for the kid? Shouldn't he immerse himself in other forms of popular culture at least for some variation? Like Pokemon? or Power Rangers? One Piece? On second thought, maybe not.