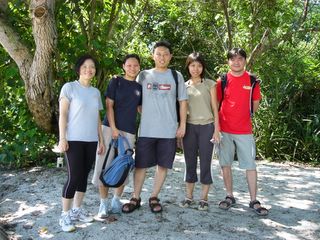 Frivolous Supplies Convoy to Council Camp '05, P. Ubin.

NBS had a bright idea. Let's go cycling on Pulau Ubin and drop in on the Councillors at camp as an excuse. We'd bring some non-tactical, unhealthy snacks for the Camp Supervisors just to make our trip worthwhile. Our manifest included some green-coloured corn puffs, prawn crackers, potato chips (I think it was) and 9 individually packaged sachets of dried seaweed.
Woke up early today and met Lucy and NBS at the Ferry Terminal. A short boat ride later and we were on the little island swarming with schoolchildren on foot and on bikes. Apparently the 2 youth Brigades arranged for some mass activity and the jetty was crowded with kids getting oriented to a wild and rustic side of Singapore many of whom would never have seen before. It's a slice of rural life from 30-40 years ago preserved by the islanders and long may it stay that way.
The main road from the jetty is lined on both sides with bicycle rental shops. At random we picked one and got our Shimano mountain bikes at $7 each for a full day's rental.
Ubin's environment is such a change from our urbanized mainland. Here, it's mostly greenery, houses are still made of wood, the cars are in a condition that would have warranted scrapping a long time ago, and there is little evidence of air-conditioning even in the better-looking structures. It's a great place to get away from it all but I probably wouldn't last more than a day or 2 before I'm itching for bright lights, big city again. Town mouse, that's me.
We met the Camp Supervisors and accompanied them back to the jetty area where we settled in for lunch. The initial idea was for a seafood feast but as the Supervisors were going to remain on the island until Monday, they decided against ingesting anything they might regret in the near future. No chilli crab then. So we ordered rice and dishes: sweet-sour pork, 2 different styles of
kailan
, a tofu dish, deep-fried baby squid, and fresh coconut to wash it down with. There were 11 of us at the table and the meal came up to a very reasonable $5.50 per head (less drinks). June's thinking of bringing family here for a cheap meal-outing soon.
After lunch, we escorted everyone back to camp then the supply convoy took our leave to make our way back to civilization. Before boarding the boat, we made a quick pit-stop for more coconut and sliced local mangoes which smelled heavenly and tasted like bubblegum.
To Amy, Vince and the rest, just hang in there for another night. You'll be home soon! Until then, have fun roughing it out!
Ooh... check out the local wildlife: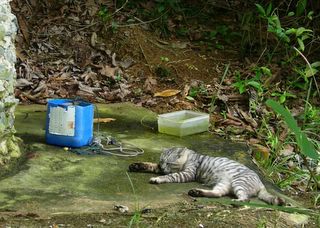 Abu, a fisherman's burly tom, naps beside a well on P. Ubin.