Just a quick note (in this belated entry) of another milestone I've reached in life and quietly acknowledged through a hard-copy letter I received yesterday. The letter announces that I have fulfilled my national service liability and I can bid goodbye to Uncle Seng once and for all. No more in-camps, no more mobs, no more tactical training and skills proficiency tests. It's over!!!!
From now on you may address me by my official title, Lcp (NS Ret.) "Xmac."
I never thought I would see the day.
Edit 01:
In the evening, the Drama Club bade farewell to our '05 seniors at BBQ pit 61, ECP. Nice place, less crowded than the location nearer the McD's and so breezy! The price of course, is the long walk to get here from civilization. No official programme; just burn food, eat, chat, sit by the sea and not necessarily in that order even. We'll let the pix tell the story: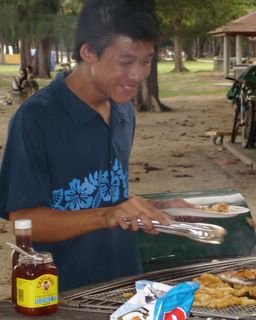 Having survived his pre-election interview, Fran takes on yet another grilling.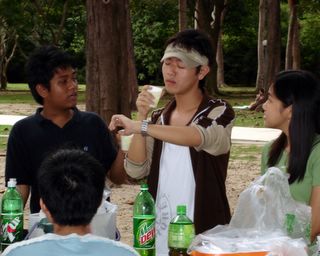 The Wizard attempts to break the world speed record for chugging down a cup of soda.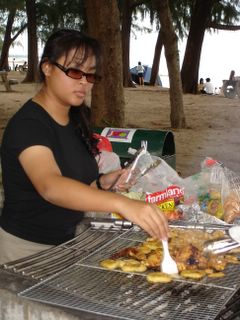 'rini stays focused and determined as she butters up a chicken nugget.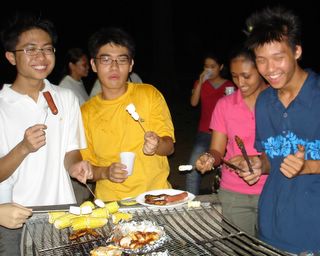 Proof that things haven't changed much since human beings discovered fire.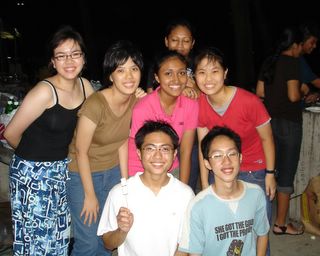 Terry holds up marshmallows to represent the absent members of Mel's 04A2 in this class photo.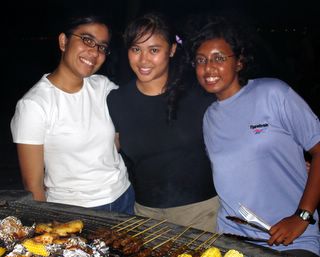 Girls never grow out of playing with their Barbie.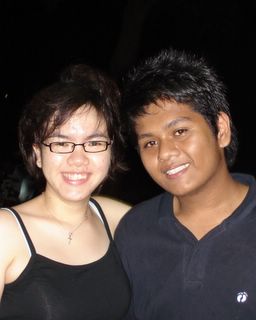 Darth Mel looks pleased with her new minion.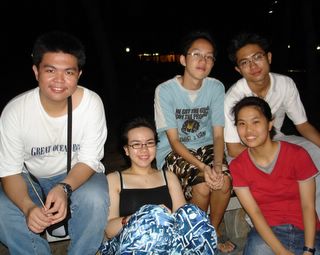 The Jedi rule of 1 master, 1 apprentice is another tradition lost since the MOE took over.

Acknowledgement:
I won't complain about crap night shots again -- this new toy is awesome! Thanks guys!