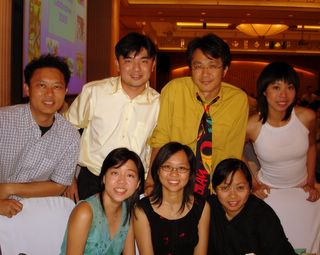 Yay! Table #1 at the annual staff dinner - Anthony - Bhagia - Yee + Gerald.

Our table was in the darkest corner, and for most of the evening we were left to our own devices. Staff dinners are usually semi-formal occasions where the CC-NY schools we belong to recognize our hard work by buying us a 10-course Chinese meal. It also doubles as an initiation ceremony for new staff who put together some "entertainment" to display their talents for singing, dancing, acting and humiliating themselves in public. Essential qualities for a teacher to have, I think, considering the environment we work in.
This year's theme was "Cartoons," so Table #1 came as ourselves. 'nuff said. JY dressed as Snow White but it was just too bad that the dwarves at her table were taller than her. Haha.
The usual highlight was the Lucky Draw. Appropriately enough, Table #1 emerged luckiest table being drawn for the 1st prize in the Table Draw. We each got $20 worth of vouchers from Isetan. I have no doubt June will put my set to good use as will Wendy for Anthony. In the Individual category, Mel won a Metro stored value card, $25 I believe it was. Guess they're telling us to go get some grown-up clothes for ourselves to wear to work. :P
Despite Anthony's and Vince's will to win a top individual draw prize, they were no match for Tam who warded off our lucky charms and spells with the occasional incantation and a wave of his hands and secured the 1st prize for his table mate, TSL, who had only a couple of days ago remarked to me that she had never won anything before in her life. I told her she won the cubicle directly opposite mine, but that probably wasn't enough for her. Tonight she staggered home with a mini home theatre system including the all-important DVD player. I feel so belittled now.
Went bowling [again!] after dinner, and because she had left her make-up case in M2, Mel came along for the ride and bowled with us. And got very excited. Another bowling
kaki
in the making? We'll see.