I looked at last night's pix and decided that they're terrible. My cam's crap when taking night shots. Still, y'all gets a coupla' samples:
Aloha! To my cousin and his blushin' bride.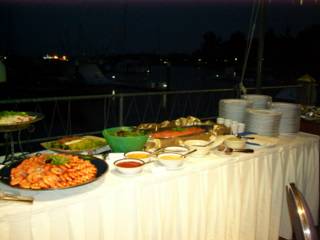 Just a section of the feast. Not a traditional luau menu, but still a great feed!

The nightmare that is Doom 3 is finally over! With me desperately trying different combinations of install configurations, I accidentally discovered that it wasn't the install disks that were the problem. It was my DVD-ROM drive that was being finicky. Doom 3 installed without a hitch on my secondary CD-RW drive. Stupid. Stupid. Stupid.
Now installed, I've been through the first couple of missions and one thing I can say about it is that the environment's dark. Not gothic dark, just absence of light dark. Things jump out at you or fall on your head while you're frantically pointing your piddling little weapon all over trying to locate the thing that's screaming and causing your screen to flash red at the same time. It's scary to hide things in the dark, of course, but it's also plain annoying because id's put so much work into creating the environments and the monsters, but you just can't see them so well 'cause it's dark. Some balance would be nice.
Haven't been able to do much Dooming, though. When I went online last night, and again this morning, I went surfin' naked. Don't get excited and drool all over your keyboard. I mean I went in without my trusty Norton Internet Security (NIS) and Anti-virus 'cos I had uninstalled them the night before in hope that by doing so I could load up you-know-what. Apparently, uninstalling Norton is easier than reinstalling it. The one time I go surfin' without Norton, I download a bunch of viruses that are still persistently hanging to shreds of their miserable existence in my hard drive. If they have spread to other people's PCs I am sincerely sorry.
I called Symantec technical assistance and I actually got to talk to someone who really did help me with my situation. Whoever you are, many thanks for working through National Day and solving my problem for me. I finally got my NIS installed and the viruses are now more or less rendered harmless, and I should be protected from any further attacks. *crosses fingers
My system is up and running again after three days of teeth gnashing anxiety. There are still some niggling little problems left in Watson to solve, but after all I've been through, I'm just grateful for small mercies (oh, did I mention that before?).