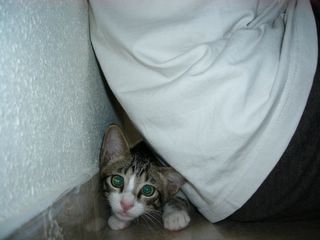 I'm a cute widdle kitty up for adoption...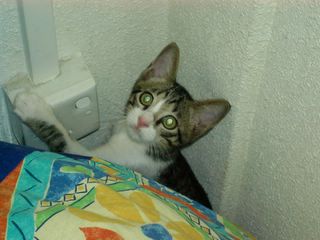 I don't even have a name yet. Will you take me home?

Yep, Flirt's injured kitten is much better now. He's playing rough with the other two cats, dashing around at top speed all over the place, and his limp certainly isn't obvious anymore. He's also starting to grow and as much as we like him, we've still gone beyond our limit of 2 cats max, and we're now searching for a good home that'll take him and treat him well. June's put a good word in with the bakery
lao ban niang
who was a faithful provider for Flirt and her family, including this unnamed kitten. All of Flirt's other kittens seem to already have been adopted by families in our neighbourhood and this one will remain in our care until he finds a new home; soon I hope, before the occasional catfights (for the position of Top Cat) in our house get serious. June says we'll toss in some cat accessories as well to save his adoptive family of these necessary expenses. Right. Think about it, ok?