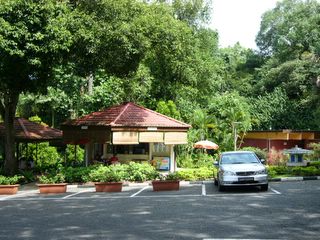 The Pitstop, Car Park B, Upper Seletar Reservoir

This is the refreshment kiosk I referred to in my previous entry. It turned out to be an excellent spot to take Dad out to for his Father's Day lunch. Firstly, it was nostalgic for him to revisit an old landmark (the reservoir, not the car park) that we always drove past whenever he took me back to my army camp during my NSF days. He's not been back this way for nearly 20 years already.
Second, the food is really good. It's home cooked from scratch by the proprietor (Mike) and his wife (Angela). They have a nasi bryani set served with a tandoori chicken leg that unlike the dry, stringy texture you'd expect of a tandoori, it's moist and juicy under the firery red exterior. And they add a special pepper sauce that goes so well with the fragrant yellow rice. We ordered 2 sets to share amongst 4 of us.
We also ordered a chicken curry with french loaf. Nice to see a chicken curry in which the meat hasn't disintegrated into the curry but is still tender, yet integral unto itself. We had the nasi lemak as well which was more lemak than the overrated Chong Pang variety that Channel U has apparently endorsed. And the mee siam was from a recipe that I thought had gone extinct, that I knew mee siam to be, yet I could never recapture in present-day Singapore. It was a mee siam that brought me back to the old Indian man whose stall in my old school canteen still holds fond memories for me. The gravy is pinkish, a little thicker than the soupy stuff we get nowadays, more sweet than sour, and just a little bit lemak as well.
Mike explained that this was the original recipe that the Indian stevedores concocted when they wanted bee hoon but couldn't stomach the blandness of Chinese bee hoon soup. The recipe died out when they got themselves repatriated to India or heaven. The recipe was then revived by the nonyas, who reengineered it to their taste for hot and sour and today it's this version that lives on. Another interesting piece of info: mee siam is endemic to Singapore. No one else eats mee siam (historically speaking) in the region, so where the "siam" part of the name came from is a bit of a mystery.
We polished off 6 cans of Minute Maid lemonade and felt a bit bad when Mike was trying to promote this new label to his other customers and realized there was only 1 measly can left in his drinks fridge. A possible new addiction to substitute for Coke, my regular poison. Hope it catches on.
Unfortunately we were too full to end with dessert. June and I know they have a delicious, unusually light and fluffy chocolate brownie ala mode 'cos we actually recc'ed the place yesterday lunchtime after Belle's checkup with Dr Casey. Belle's still trying to regain the use of her right foot, BTW. But she's also adapting herself to move around on 3 legs in the meantime.
Third, Mike and Angela are not so much "service-oriented" as they are genuinely personable and friendly. They have stories to tell about their customers, their pets and their customers' pets as well. This is one place where the proprietors introduce their customers to each other because they know their regulars firsthand.
Fourth, economy. For everything that we ordered and stuffed ourselves with, total bill: $31.70. Not bad for a meal for 4.
An excellent date place, especially in the late afternoon, early evening. It's quiet, natural and romantic, especially when it gets a bit darker and you climb the lookout tower or just sit on the breakwater watching the sunset together with your date. Good place to think and write too, if my previous suggestion is too mushy for you.
This place is open from 1130 to 1900 every day except Thursdays and the 1st Saturday of every month. It's best to drive here as it's a bit out of the way, though there is a bus stop on Mandai Road from which you can walk in. Just head for the rocket and you're there.
Oh, Mike hinted that some big real estate players may be muscling their way in to take over the golf course under whose auspices his establishment operates under. That could cast a shadow over the long-term viability of the Pitstop as it is run today. Until then, it'll be let's take it easy and live one day at a time. Good philosophy.