Today was the Teachers' Day celebration in college. Oddly enough, the staff performed concert items, the students sat and watched. Usually, it's the other way around. But anyway, this occasion marked the inaugural usage of the new parade square for official college business, and here P announced her retirement to the whole college as well.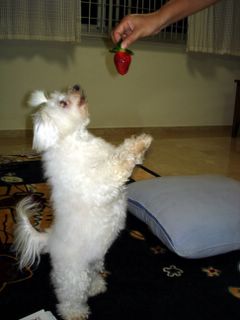 Q-tip is happiest beneficiary of my TDay gift from the college management -- 2 punnets of strawberries.

And S3D, thanks for the card and your individual messages -- all the nice things you said. :)
I'll continue working hard for you, just remember to keep me on my toes, ok?
Spent 2 hours after the celebrations helping to facilitate a staff workshop on Reasoning
a la
Richard Paul, though most of the attendees already knew something about it or were already using it in some form or other in their classes already. Guess it's good to consolidate and standardize everything for all departments, but it does make for a dry session when preaching to the converted. Talked too much during my section of the sharing, but if you look at most of the entries in this blog, you'll know it's a trait of mine to ramble on and on and on...
Still reading? Wow!
Celebrated with Vince, Amy, Yee and HP at the Gardens' Country Manna, then went bowling [again!!] the rest of the afternoon.
In the evening I made a turkey delivery (don't ask) to M-i-L's, met June there then drove down to meet Anthony at the petanque courts in Toa Payoh to help him set up for the International petanque tourney scheduled for this weekend. We strung up bunting, ran cable and attempted to assemble the rather large scoreboard in an easily seen location. June also busied herself cleaning up the grimy-looking water-cooler from which the participants will be drinking during the competition. By 2220 or so we were done. For our assistance, Anthony treated us to a Milo Dinosaur each at The Prata House. We gratefully lapped it up, then went on a mooncake delivery (M-i-L's homemade masterpieces) to my Mom's.
Dragged ourselves home past midnight and to bed immediately, hence and forthwith. 'night 'night!