We're back from KL, and Anthony's officially hitched! He and Wendy signed on the dotted line at the Ceylon Coffee House in a small outdoor ceremony followed by a sit-down fork-and-knife dinner. Weng, the MC, Best Man, Wedding Coordinator was the most stressed-out person on the spot. I know how he feels, at managing events as complex as this.
It was a theme party to the theme of 'Never-Neverland' and most of us invited came in some kind of attire based on 'Peter Pan.' The four of us, me, June, Vince and Amy likewise dressed up for the occasion: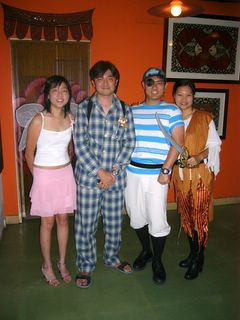 4 Neverlandists await the arrival of the Pan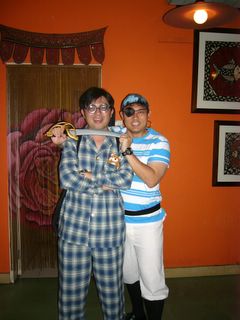 How does this hapless landlubber know my sword's only made of plastic?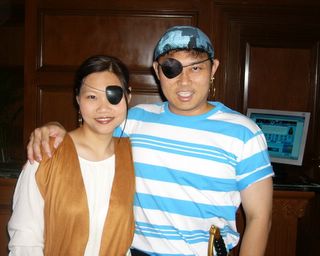 Oh, for a life on the sea!

My digicam's quite useless for night shots so unfortunately I couldn't get too many more pix. Hope Luanne will develop some of her shots from her roll for us...